Accessories-Zone Helps You Sell More Accessories
It may sound too easy to be true, but the key to selling more accessories is to ask for the sale. Time and time again–over 5+ years of research–is that when accessories are presented to the customer at the time of purchase, they will typically buy something 30% of the time. Creating a solid accessory sales program in your dealership will be the highest paying activity, for the least amount of work.
You must be thinking it can't be that easy, can it? Well, yes and no. It is true, there are substantial difficulties implementing an accessory sales program inside a dealership. Pricing difficulties and inconsistencies, struggles getting the internal departments to work together, all the time required to keep up with new products and changes to existing products — the list of challenges goes on and on. But, that is where our system comes in to provide solutions and make all that a thing of the past.
Our experience is on the dealership floor, so we understand all these challenges. Instead of trying to fit existing software to work, we started with the needs at the store and brought in the best software engineers we could find to build the software to meet those specific and unique challenges.

EASY 5-MINUTE SETUP
Simple yet powerful, your store can be setup within 5 minutes. Imagine setting the entire pricing — from profit margins, to labor rates for every part in the catalog that quickly. Our system can do that. Even revenue sharing accounting modals.

GO LIVE WITHIN HOURS
Our main goal is making this easy. Easy for everyone. This includes sales consultants — we can train them how to use the tool and how to present to customer and have them making money within the hour.

ON-DEMAND REPORTING
Proper, accurate data is the linchpin of a successful accessory program. Our real-time metrics provide a global perspective of performance, right down to the individual sales consultants and their presentation performance.

ANY WAY YOU WANT
It has to be easy if it is going to be used, so we built this to be flexible enough to work within your current environment. Paper-based menus? You can build them automatically. Showroom floor presentations made by the sales person? Absolutely. Service Lane upsells? You bet. Using iPads? Or Computers? Or large wall-mounted TVs? It works everywhere.
Manage
For the parts department, it is a daunting task to keep current on thousands of parts and make sure they are all priced correctly, readily available and setup with the correct fitments to know what to offer to what type of customer. Fortunately, we do all of that for you. As soon as your dealership is activated, it is pre-loaded with all the manufacturers products. MSRP, Cost, Install times, Images, descriptions, vehicle fitments, inventory levels — everything all ready setup and ready to go. When price changes happen, your catalog is immediately updated and re-priced automatically. When new products are added by the manufacturer, they show up instantaneously in your catalog. No need for any interaction from the dealer at all.
However, if you want to manage your catalog very closely — you can do that to. Your store has the ability to change labor times, images, descriptions, parts markups, so you can get as granular and detailed as you want to and have full control over every aspect of your catalog. You just don't have to.
Present and Sell
The evidence is irrefutable. If you have sound pricing and commission structures in place, and you present to 100% of your customers, you will sell more accessories. This has been proven time and time again – with a wide range of selling tools. Paper-based methods, highly advanced visual configurators and everything in between. They are all almost equally effective. The difference between them? Ease of use. And that is why we have focused all our efforts on making it easy on everyone. Not just the customer, but the sales consultant, the parts manager, the service manager, even the F&I and accounting departments. We have sat in all of those chairs, so we know exactly what each individual needs to make their life easier.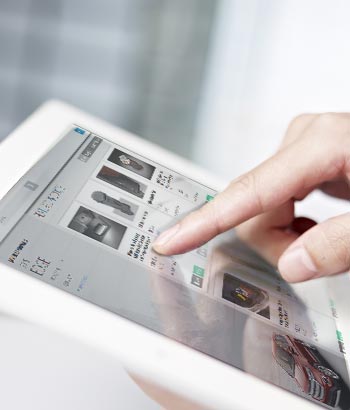 Track
Accurate data is pivotal in a successful accessory sales program. It answers all the important questions. Is the tool working? Is there a point in my process that is causing a delay? Who is most successful at selling accessories and why? Our real-time metrics break it all down for you. From global performance data, to departmental gains and on down to the individual sales consultant.